Myanmar people believe in the existence of spirits of people and people who have died. So do many Chinese in Singapore? Do you believe that spirits and ghosts exist? Do you believe in the hungry ghosts wandering around during the Hungry Ghost Festival?

Now, what has the Myanmar ice-cream vendor in this report has to do with spirits? No connection except that he is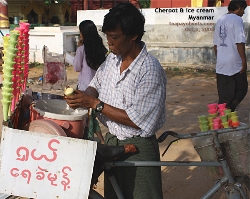 selling ice-cream in a famous Myanmar temple area where there are many snakes and he probably believed in spirits and ghosts too.

Whenever I see an ice-cream vendor in Singapore, I recall this incredible story. On Jan 14, 2009, the sound of ice-cream bells attracted my attention as I completed a case of Miniature Schnauzer bumps treatment. The ice-cream vendor was licensed to sell ice-cream only in the vicinity of Toa Payoh. The Singapore Government had strict rules restricting street hawkers to play their trade only in approved areas. Any licensee flouting the rules will get fined.

The ice-cream vendor passed by my Surgery every afternoon in 2009. It cost $1.00 per piece of ice-cream with bread. I wondered how he could make a living since he had poor traffic in an industrial park and there was a China-reported melamine in milk scandal resulting in many people not eating ice-cream.

The vendor was happy to see me, saying: "I am free only in the night and so I consult your colleague about my puppy. You know, I stopped selling ice-cream for a few days after my dog died." It was really sad as it was unexpected that his Pekinese would die. The dog was passing urinary stones practically one a day for the past months but he did not accept my advice to get the stones removed. "If only he can produce diamonds instead of urinary stones," the vendor said to me. I did not laugh as it would be at the expense of the dog and I consider ill health in animals not a laughing matter. But others may have their own sense of humour.



As an example of humour, on a bright sunny Sunday August 22, 2010 afternoon, I visited a pet shop in Toa Payoh as I had closed my surgery. A thin woman with dyed bronzed hair and black big-framed spectacles came in to buy 2 cans of the cheapest cat food to feed the stray cats. This was a routine she had done for at least 25 years and the stray cats would wait for her every day. She had numerous cats in her house but she said: "I feed them only Science Diet since the pedigreed cats would pass blood and get diarrhoea when fed these cheap canned foods."

The aunty of the pet shop proprietor introduced her to me, being kind-hearted to get me more customers. I would call this woman "the cat-woman" as she devoted her life to caring for so many cats. She had many questions about her cats' health. One of them was an old cat that had recovered from chemotherapy for some mammary tumours.

"Why does my cat meow loudly nowadays?" she asked me as advices are free.

"It is hard to say what is the cause," I replied as the cat had been spayed. "Like some old people, your old cat may be suffering from hallucinations and could see some objects threatening her."

"What do you mean?"

I said: "In old people, the brain may have degenerated and the person sees things or people others can't see and start telling his family members."

"You mean ghosts?" the cat woman wondered loudly.

"It is hard to define what the person with dementia sees," I said. "Their brain wiring may have been defective and if the cat has this problem, she would see another cat coming for her. These are my wild speculations. You should consult your vet."

"Vet fees are so expensive," the cat woman said. "The vet gives 20% discount if I bring in a stray cat but for other cats, it is over $100 a visit."

I had no comments on this subject. The cat woman had fallen on hard times and the cats in her house and the stray cats suffered from less food. It is costly feeding so many stray cats but the pest-control people and the veterinary authorities had disposed many of them over the last 10 years.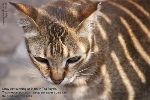 "If not for Pauline from the Cat Society," the cat woman told me, " The Toa Payoh Town Council would get rid of all stray cats in Toa Payoh. Now, the Town Council leaves sterilised cats which have clipped left ear tip alone." I don't know who Pauline is or whether there is a Cat Society.

"Now I remember," the cat woman waved her hand and her silk blouse with maps of the world fluttered. "My cat started meowing at the start of the Hungry Ghost Month. She must be seeing a lot of ghosts. You know, my friend has to go home before 7 pm to avoid the ghosts nowadays!"

The shop aunty laughed and took a piece of tissue to wipe her eyes. I did not laugh at the poor cat's expense but seeing humour in some animal encounter situations may be best if one wants to live longer.
Back from my digression and to the ice-cream vendor. His mahjong friends had bought him a puppy as he and his wife had been grieving for several weeks.

Suddenly a strong gust of wind blew off his plastic ice-cream cups and his helmet. Nothing unusual as the two industrial buildings of 10 stories create a wind tunnel effect. "My old dog is angry with me," the vendor said as a stronger gust of wind uprooted his large umbrella from the holder. The umbrella floated upwards to one storey high and gravity pulled it down some 10 metres away with a loud pomp.

I had this shivering feeling as I knew the old dog and had wondered at this new development before the vendor expressed my thoughts. Is there such an entity as a canine spirit?

The vendor picked up the umbrella and put it back into his holder. He screwed the knob to hold it in position. The breeze got stronger. "Your umbrella is going up," I shouted. "Don't worry, I am holding onto it." After several seconds, the breeze just died.

"How do you know that your old dog is showing her presence?" I asked him.

"I can feel her presence even at home," he said.

I was sceptical. "How do you know?"

The vendor said, "Clumps of her hair appeared in the apartment suddenly." The dog had died around 2 months ago and there should be no hairs around.

The vendor saw through my disbelief, "Sometimes, I could hear her swaying and rubbing her backside at night under the bed. One night, my wife asked why I was shaking the bed. I told her I did not."

As to why his mahjong friends presented a replacement puppy for him, I thought it was due to friendship and to stop him from grieving. I asked, "Why do your friends want to buy a puppy for you?"

The vendor elaborated, "All of them bought 4-digit lottery and won money due to the death of the dog."

"How would your friends know which 4-digit to bet upon?" I asked. I don't believe in such matters and on the rare occasions I bought 4-digits, I had not won a dollar.

"They have their ways," the vendor elaborated. I could not continue to talk more to him as my assistant Mr Saw came out to remind me that another client was waiting.

This story of a canine spirit sounds and winning the 4-digit lottery sounded incredible. I can't believe it myself if I had not experienced the sudden shivering when the breeze increased in force and intensity at the time the vendor spoke and grieved about his Pekinese that had died young.