Over 30 years of practice, some clients do become good friends of the veterinarian. The "tai tai" artist is one of them. "Tai tai" is a Cantonese term for a woman of leisure and wealth; one who does need to work for a living.
Her children had grown up and are in their 30s and when I first saw them, they were teenagers studying in Secondary Schools. The mum has a natural talent. Her classmates would retain her drawings. She would present her favoured surgeon a present of her painting. She did present me a chalk drawing of a monitor lizard puffed up to fight off an attacking dog for me after I gave her a picture of the scene.
In her house, I always get attracted to a very large painting of a wealthy young girl with bright eyes and adorned with a webbed necklace in a solemn light brown dress and darker brown background. This painting is hung on the wall of the living room.
She had commissioned an experienced old Chinese painter to paint her daughter. To me, this painting appeared to be painted quite fast as her necklace of several connecting precious stones were all painted blurred. Maybe that was purposely so as not to distract the viewer from looking at her bright and distant somewhat sad eyes. I appreciate more realistic portraits of ladies with sharper focused jewellry or dogs as shown in some European paintings.
Mum said to me as I appreciated this painting on the rare occasions I visited her: "The painter drew her hands too long." I did not realise that the hands were unusually long but after her criticism, I improved my observations and knowledge of art appreciation.
Every time I visited, I would ask: "Have you sold any of your paintings?" She would paint many but would not complete many of the oil or acrylic paintings. She does not need to sell paintings for a living and would paint any theme whenever she wants to. That is why I call her a "tai tai" artist.
I approve of her Madonna and Child painting prominently displayed on one side of the living room and asked whether she was selling it.
"My pastor wants me to sell my painting of Madonna and Child," the artist said. "I paid $400 for the frame as it is a good type."
I teased her: "The frame costs more than the painting."
"No, no," she replied in her gentle voice. "I can get $4,000 to $5,000 for this painting if I sell it at the Church through the pastor. Religious paintings of this type are in great demand."
"Really?" I was surprised that a copied painting of the Virgin and Child cost this amount and be able to attract buyers. I am not into religious paintings. I appreciate market place paintings of less developed countries like Myanmar. I have one displayed at Toa Payoh Vets. It was a present from an old friend who bought it from the market in Yangon. It costs around S$100. I don't know whether the artist is well known or not. It seems to represent tribal women from the villages selling their farm produce at the market in the town.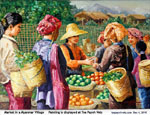 "Your paintings are of no value," I said. "You don't sell them." If an artist does not sell his or her paintings, how does one valuate the worth of their production?
"The pastor said my painting of the Madonna and child can sell for $4,000 to the member of the congregation", she replied. "Of course, the church would expect me to donate some part of the sales proceeds. Such religious paintings sell very well, do you know?"
"If there is such a great demand as you said, why don't entrepreneurs in China and Vietnam have Madonna and Child copied and sell them to churches in Singapore?" I asked.
"Those are scanned copies and will not sell," she said. "They are flat computer scanned images. Paintings done by hand look different."
"There are talented painters in China and Vietnam who can really copy using computer software and then use the real paint to complete the paintings of Madonna and Child," I said. "Surely, they will sell very well in Singapore and make profits for the entrepreneurs."
She did not think so. Professional painters work every day but she might paint once in a blue moon.
"Why are your finger nails greyish?" I asked as I sipped the coffee and biscuits she prepared for me. I hope she was not in poor health as she looked pale. "Oh, these are due to the paint," she said.
Somebody phoned me to get back to the Surgery. I said goodbye. I always encourage her not to copy portraits from the other painters or photographers and use her imagination.
Before I left, we checked her website where painters meet and gave points to one another and commented and criticised each other's paintings.
"I have got 50 points," she showed me her painting image of 4 Indian village women with pots on their head.
"Click to enlarge the thumbnail image," I said.
"I have removed the enlarged image after I got the assessment and points," she said. "This is to prevent others from copying my painting."
I could not see much. It was surprising to me that she was worried that others might copy her painting and sell them. Imitation is the sincerest form of flattery.
Paintings are meant to be enjoyed by others and selling them is one way of growing an artist's reputation. "Famous painters in the past have patrons to support them and commission paintings," I said, after spending some time reading some arts magazines. "Maybe their assistants paint for them as it takes a long time to paint oil and acrylic paintings."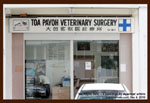 "Don't go into the sale of painting business," the artist advised me. I don't know why she thought I was going to be an arts gallery owner to support and sponsor Myanmar artists' paintings. This business is for the birds.
Since this "tai tai "artist does not produce many original oil and/or acrylic portraiture and landscape paintings, her artistic talents are "wasted". But then, she is a "tai tai" and so she does not need to be productive and efficient. She can afford the luxury of painting whenever she is in the mood. What she needs is a muse. And muses seem to have flown the coop.