EMAIL TO DR SING DATED APR 21, 2011
Hi there
I've never been to your clinic. However, I would like to enquire if you all do dispense oral medication for ear infection/hematomas-related illness. My cross-breed dog (quite similar to the Miniature Pinscher) is 13 years old and she is quite aggressive towards strangers. She had been having her ear infection for some time, and recently there's been a lump growth just at the bottom of the infected ear, which I suspected is hematomas.
I was wondering if it would be possible to obtain oral medication for this illness without having to bring my dog in, as she is quite averse to travelling and towards strangers.
Please advise. Thanks!
E-MAIL REPLY FROM DR SING DATED APR 21, 2011
I am Dr Sing from Toa Payoh Vets. It is best to check what the problem is. An ear haematoma is a swelling with blood inside the ear flap. Send two images by email as soon as possible.
E-MAIL TO DR SING DATED APR 23, 2011
Dear Dr Sing
Thank you for your prompt response!
I will try to describe her condition as best as I can. Thus far, her ear has been giving out smelly discharge, which are slightly brownish/reddish in colour. The discharge is usually in liquid form. She tends to whine as she try to scratch her affected ear. Recently I've noticed that the discharge is not as much as before, in fact, I do believe that there hasn't been any discharge these two days and that her ears are relatively dry. Though however, the smell still persist. Admittedly, it is not as strong a smell as before.
Only quite recently did I notice the lump just below/behind her ear. It was quite "hard" when I touched it and it does not seem to cause her any kind of pain when I touched it. She does not have floppy ears.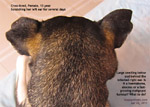 I have also attached some photos of my dog for your preliminary viewing. The lump is on her right side, just below/behind her ear. I've also taken close up pictures of her affected ear. Pictures taken from behind makes the "lump" appear slightly bigger than it really is as her hair was sort of sticking out in the area.
Thank you
(Name of Owner)
E-MAIL REPLY FROM DR SING DATED APRIL 23, 2011
Thank you for your pictures. From your images, the lump at the bottom and back of the right ear appears to be
1. a haematoma due to the dog pawing his ears to relieve himself of the intense pain
2. an abscess due to infection by bacteria of the haematoma
3. a fast-growing malignant tumour since you describe it as "hard" and not painful and the dog is at the age when tumours are common.
Ideally, large haematomas and abscesses should be incised and drained to prevent infection by bacteria and pain which you believe is not painful to your dog but it actually is. Malignant tumours are best resected (removed) when they are smaller in size. In brief, surgery is advised.
Ferocious dogs can still be sedated and anaesthesized for the surgeries. A dog transport man can bring your dog to the vet for surgery. There are anaesthetic risks (of death) involved in sedation and anaesthesia of an old dog. An aggressive old dog poses higher risks. The alternative is to wait for the lump to subside if it is a haematoma and not causing pain. You will have to decide yourself as to what to do as the anaesthetic risks of death are higher in old dogs. Pl phone me at 6254 3326 for appointment or for more queries.