Be away from the concrete jungle and high rise buildings of a stressful city living
Start your trekking from Kalaw which is a peaceful summer resort nestled in pine-tree clad a former colonial British hill station. Hear the whispers and feel the fresh cool breezes of the Shan Plateau sweeping your face as you trek up and down the hills at an altitude of 1400 metre (4600 ft). Kalaw is located about 71 km to the west of Taunggyi, the capital of the Southern Shan State.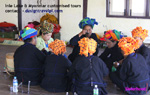 The Palaung, Danu, Pa-O and Taung Yo hill tribes are living around Kalaw. They earn their livelihood as farmers. During trekking, you breathe in the fresh breezes of the Shan Plateau, experience a glimpse of the way of life of the hill tribes in their villages. You will sight-see a train perhaps, cross railway lines, take photographs of the paddy/rice/ginger fields. In some areas, you will see fruit trees, sesame fields, tea plantations.
If you choose night-stop trekking, you will spend the night in the hill tribes' village and be able to observe their traditional way of lives.
Remarks - Require advance bookings.
Inclusive
• 1 experienced trekking guide who can speak English
• 1 experienced porter
• 1 overnight at the village house/monastery with basic accommodation. There are no 4- or 5-star hotel accommodation in the Kalaw trekking trip
• 1 bottled water per day
• Simple meals for lunch, dinner and breakfast
• Main luggage transfer from Kalaw to hotel at Inle
• 1 car transfer from Kalaw hotel to trekking point junction if needed
• 1 boat transfer from trekking end point to hotel at Inle Lake if needed
Exclusive
- International (Singapore to Yangon) & domestic air tickets (Yangon to Heho)
• Hotel accommodation at Yangon, Kalaw and Lake Inle
• Any other item which is not mentioned